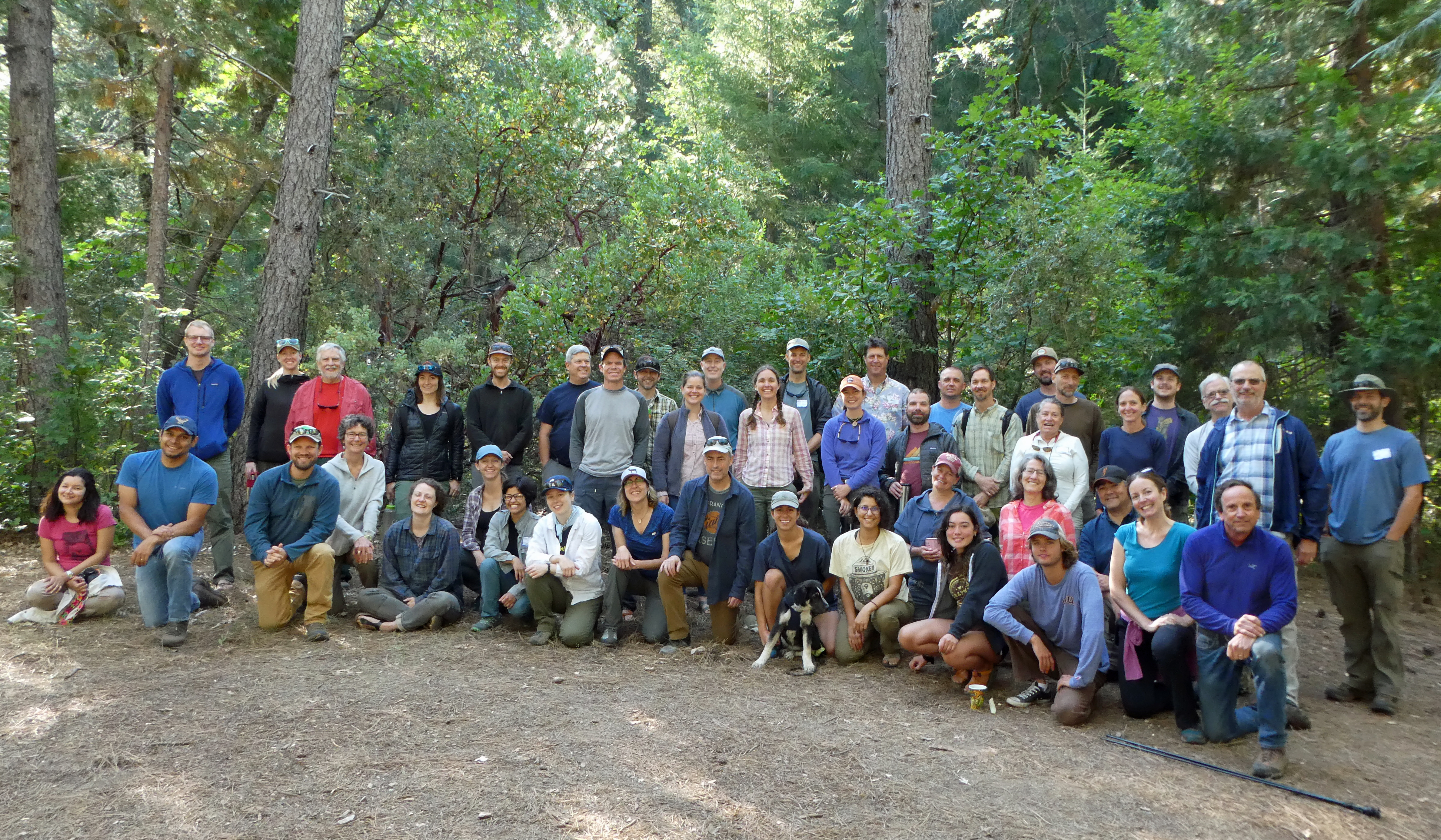 2019 Fire Science Retreat Summary: Visiting the Carr and Delta Fires
Sustainable Northwest Storyboard: Adapting Western US Forests to Climate Change & Wildfires: Ten Common Questions
Gov. Brown's Venado Declaration: Keep Our Forests
Sign the Venado Declaration here
Mark Mutti film: Angeles NF, Episode 1: Fire Year
California Legislative Brief: LiDAR: What can it measure and how can it best be used?
Concise, effective summary of CA wildfire problem by Kite and Key Media
Self-serving garbage in the Sacramento Bee (excellent article summarizing the lack of credible science used by some environmental advocates)
Recent Media:
San Diego Tribune: Sky Island Logging
Agri-Pulse: 2022 Wildfire Session
Bay Nature: Logjam: Fighting fire with mills
S.F. Chronicle: California megafires and one important fact
Epoch Times: Red tape stokes devastating wildfire
EOS: Reevaluating Ecosystems on the Basis of Climate Change Vulnerability
Science Daily: Just what is a resilient forest anyway?
Fresno Bee: Too extreme?
Bloomberg News: To save western U.S. forests, cut them way back
S.F. Chronicle: Drought, fire and beetles
Science Daily: Just what is a 'resilient' forest, anyway?
KQED radio: How will California forests adapt to climate change?
(broadcast in San Francisco, Seattle, Boston, Orlando, Washington DC)
NY Times: To save Tahoe, they spared no expense
S.D. Tribune: CA timberland owners suffer losses
A.P./ABC News: CA fire season sets records
National Geographic: More good fire could help California
Bloomburg: Scientists are trying to make California forests more fire resilient
LA Times: Wildfire plan favors logging over homeowners
Knowable Magazine: How to rebuild California forests, with climate in mind
NBC Bay Area: Experts Frustrated by Stalled Efforts to Counter Megafires
Bloomberg: Learning to live with fire and each other
NPR: Fighting wildfires with more fire
ABC10: Could setting fires be the key to stopping fires?
AAAS EurekAlert!: Thinning and prescribed fire treatments reduce tree mortality
NY Times: Trump Administration Rejects California's Request for Wildfire Relief
UC Davis Podcast: California wildfires
Stateline: California needs more fire to fix its wildfire problem
GV Wire: Biomass would help reduce wildfire problem
Die Welt: California wildfires
Forbes: Good forest management needed for better wildfire
LA Times:  Dead trees fuel unprecedented wildfire
Forbes: Making forest fires worse
KCBS In Depth: How did California's fire season get so destructive
ProPublica: They know how to prevent megafires.  Why won't anybody listen?
Scientific American: California looks to battle mega-wildfires with fire
The Union Democrat: Why California spends billions but can't control its wildfires
Gannett News: Democratic Presidential Candidates response to CA wildfire question
NPR All Things Considered: Is there a better way to fight massive wildfires
National Geographic: Regrowing Forests
Washington Post: Wet California winter and wildfire
LA Times: Here's how California can use fire to solve its wildfire problem
NY Times: To Help Prevent the Next Big Wildfire, Let the Forest Burn
NPR Here and Now: Trump Claims California is Wasting Water
NPR All Things Considered: Megafires more frequent with climate change and forest management
NPR All Things Considered: Fire ecologists say more fire should be left to burn.
High Country News: What fire researchers learned
Yale E360: A Push to Turn Dead Trees into Biomass
UC Office of Research: How Researchers Are Responding to Mitigate California's Wildfire Crisis
UCD Science and Climate: Australia's wildfires in a California context
Forbes Magazine: Why Everything They Say About California Fires
Popular Science: California is primed to burn
The Seattle Times: Restoring old-growth forests could help fight climate change
Comstock: Fueling the Fight
L.A. PBS KCET: The New Normal
SF Chronicle: Government shutdown: How science research is grinding to a halt
SDPB Radio:  Megafires More Frequent Because Of Climate Change And Forest Management
Now This News: Climate change is making fires harder to fight
MIT Technology Review: California needs to reinvent its fire policies…
S.D. Tribune: California, Trump eye logging…
The Mercury News: Megafires: Controlled burns could reduce…
The Desert Sun: As California fires rage…
Capitol Public Radio: Dangerous wildfires like the Carr fire…
S.F. Chronicle: Fixing state's fire problem
CNN: Record-breaking California fire…
The Mercury News: Is California's firefighting strategy…
Yale Environment 360: Fighting fire with fire:
Sample of Older Media:
NY Times: As Fires Grow, a New Landscape Appears in the West
PBS Nova: Controlled Fires Could Actually Save the Forest
Wall Street Journal: Felling Trees to Restrain Wildfire
Capitol Public Radio: USFS Prevents Its Own Scientist from Talking about Study
NPR All Things Considered: One Year after California's Rim Fire
NY Times: Let the Forests Burn
NY Times: Protecting the Forests, and Hoping for Payback
High Country News: Fire scientists fight over what Western forest should look like
Outreach:
Creating more resilient forests through active management
Forest Fires: Answers to 12 Common Questions
Results of the Teakettle Experiment (pdf of 37 slides)
Sierra Nevada Conservancy: Restoring Fire: A solution for the Sierra Nevada
Sierra Nevada Conservancy: Fire Exclusion: A problem in the Sierra Nevada
Research Briefs for Managers:
Repeated burns fail to restore pine regeneration
What is forest resilience and how do we measure it?
Using Pyrosilviculture to Make Forests Inclusive of Fire at Larger Scales
Forest Carbon Sequestration in Fire-Prone Forests
Treatment Costs & Benefits in Sierran Mixed-Conifer
High-Severity Wildfire Effects on Carbon
Longleaf Pine Restoration and Carbon
Stabilizing Carbon in Ponderosa Pine Forests
10-year Post-treatment Carbon Dynamics in Sierran Mixed-Conifer
Climate-driven Changes in Forest Succession in Puget Lowlands Forests
Fire, thinning, and regenerating trees
Riparian zones pose severe wildfire threat
Constraints on mechanical treatments in the Sierra Nevada
Resource objectives wildfires benefit forests
Fire is key to restoring forests
Using Fire to Increase the Scale and Benefits of Forest Fuel Treatments
An Ecosystem Management Strategy for Sierran Mixed-Conifer Forests
Trailer for "Wilder Than Wild" One Hour Documentary
(Original Title: The Fire Next Time)
Now airing on PBS stations nationwide:
Movie:
The Teakettle Experiment: Fire and Forest Health
DVD with instructional information, additional short films and publications (purchase at the Video        Project)
The link below is to the main (27 minute) film from YouTube
Key words: University of California, Davis, UC Davis, Malcolm North Lab, Forest ecology, Fire ecology